This
post
was originally published on
this site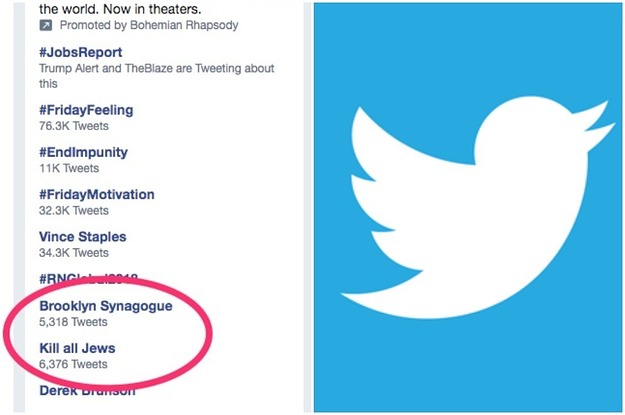 On Friday morning, the Twitter trending topic "Kill all Jews" appeared in many New Yorkers' local trending section.
That phrase had been the subject of much discussion following the vandalism of Union Temple, a Brooklyn synagogue. The temple was defaced on Thursday, ahead of a political event with Broad City star Ilana Glazer. The incident was heavily covered by local media, and as a result the anti-semitic phrase was included in a number of headlines.
Some Twitter users started to notice the trending topic on Friday morning and began wondering why the platform was promoting the hateful phrase, which was a violation of the social network's own rules. According to Twitter, it does not permit profanity or words that "incite hate on the basis of race, ethnicity, national origin, sexual orientation, gender, gender identity, religious affiliation, age, disability, or disease" in trending. Topics are set by algorithms, but can later be reviewed by human moderators.
"This phrase should not have appeared in trends, and we're sorry for this mistake," a Twitter spokesperson said in a statement. "This was trending as a result of coverage and horrified reactions to the vandalism against a synagogue in New York. Regardless, it should not have appeared as a trend."
Twitter has removed the phrase as a trending topic, though it was up for at least 10 minutes for some users.
In the last year, Twitter has announced an initiative to improve the "health" of its conversations, after years of criticism of how it handles abuse and harassment. Several prominent far right personalities have been banned from Twitter in the last year, including Alex Jones and other Infowars personalities most recently.
Recently, Twitter showed reporters at BuzzFeed and other outlets some features it was considering testing to promote "healthy conversations". These features were about encouraging more replies or active users, like a status message, rather than features aimed at curbing abuse.